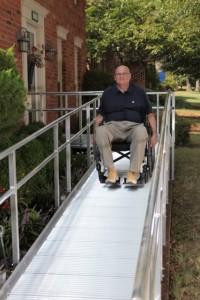 Used wheelchair ramps are an ideal solution for acquiring a mobility device at the most affordable price. Williams Lifts is happy to offer a full selection of used wheelchair ramps.
We offer high quality, gently used wheelchair ramps because customer satisfaction is our highest priority. Our used wheelchair ramps are acquired through a buy back program where we buy back the wheelchair ramps from customers who no longer need them. When a customer finds themselves no longer in need of their wheelchair ramp, we'll buy it from them and offer it at a reduced price to another customer who can truly use one.
Since we mostly buy back equipment that was originally purchased from us, we are confident in the quality of our used wheelchair ramps. We know exactly where these ramps have been, the extent to which they've been used, how well they have been maintained, and so on.
After conducting a thorough inspection, if a wheelchair ramp does not meet our specifications we will not buy it back for resale to our customers. We can offer used wheelchair ramps for sale at very affordable prices thanks to this buy-back program.