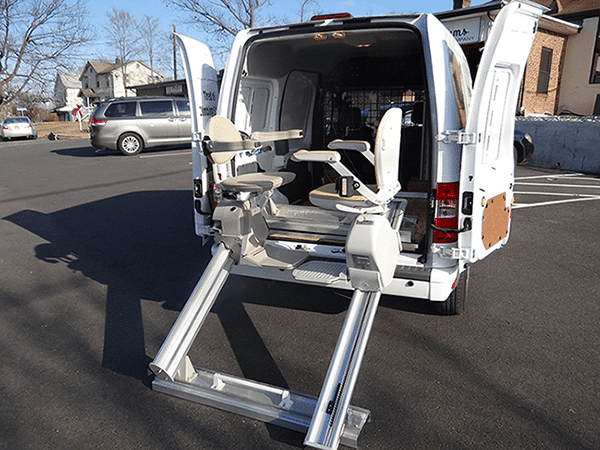 If you have decided on the type of stair or chair lift you want installed in your home, the next step is to determine the stair lift costs. In order to do that, give us a call today to speak with one of our friendly customer service representatives about an estimate.
To get your stair lift costs you can also fill out the form below and we will be in touch with you right away. Be sure to include whether you are interested in purchasing a stair lift or modular ramp. We can also install and repair new or used stair lifts and wheelchair ramps.
Once we're in touch, one of our installation technicians will visit your home to measure and evaluate. This process takes around 15 to 30 minutes, after which time we will provide you with a quote. When you are ready for us to install the lift, contact us and we will be at your home within 24-48 hours. Please note that we only service New Jersey residents.
Price Factors for Determining Stair Lift Costs
There are a number of factors that go into determining stair lift costs. The height and weight of the individual is a factor, as is the area of your home in which it's going to be installed. For example, if there is a door at the top of your stairway then only certain models will work.
Other price factors include the additional features you want to add to the stair lift. There are options available, such as a power footrest, power swivel, and a folding rail which cost extra.
Whether it's going to be installed indoors or outdoors also factors into stair lift costs, as does the material that the stairs are made of.
Why Choose Williams for Wheelchair Ramps and Stairlifts?
We service every lift that we install.
We have 24-hour service.
We are a family owned business since 1947!
Our service technicians are factory-trained and have been with the company for many years.
Our business is located in Fanwood, NJ, so people can feel free to talk to us in person by stopping in or by phone, or by filling out the contact form on the right side of the page! Our customer service representatives will answer any question or concern and will be able to assist you with your purchase!
Please fill out the form below to receive an estimate for your stair lift costs.