Bruno Curve Rail Stairlift
Bruno's Electra-Ride III Curved Rail model offers a safe and durable design that installs on virtually all curved stairways and mounts on either side of the staircase.
The custom made lift is measured by Williams Lifts and crafted by Bruno to fit the exact measurement of the staircase . Usually installed in approximately 4-8 week after the measurements are taken.
Features:
400 lb weight capacity
An offset swivel seat makes entry and exit at the top landing safer and easier than ever
Direct drive motor/gear box – no belts for reduced maintenance
Digital diagnostic display
Generous seat size – adjustable width arm rests, multiple seat heights, flip-up seat and arm rests
Options:
A Power Swivel Seat at the top landing for confident, effortless exit
A Power Folding Footrest – automatically flips up when the seat is raised, and down when seat is lowered
Mid Park and Charge station for staircases that have a landing between the top and bottom of the stairs
Larger Footrest (length & width)
Acorn Curve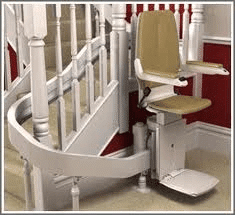 Acorn 80 Curved Stair Lifts come with all the comfort and safety features that you'd expect from Acorn Stairlifts, and due to its revolutionary modular design, means that you don't have to wait to be able to use your stairs safely again.
As comfortable and reliable as the Acorn 120 stair lift, the Acorn 80 stair lift is designed for more complex staircases. Whether your stairs are straight, or have a turn, the Acorn 80 stair lift is your solution.
With a wrap around feature at the bottom of your stairs, the Acorn 80 stair lift can tuck away allowing others to use the staircase, and keeps the chair cleanly out of the way. The Acorn 80 stair lift even has the ability to travel down a hallway, allowing a shorter transfer distance between the stair lift and your bedroom or restrooms.