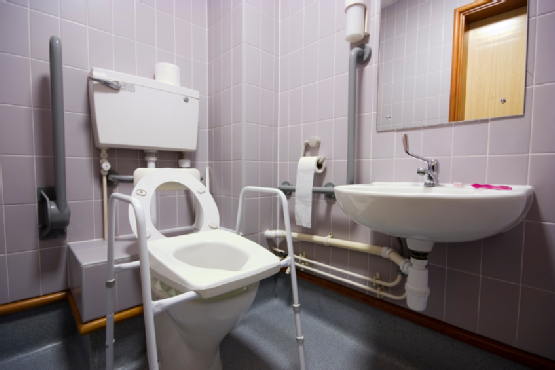 Install a Raised Toilet Seat
Did you know that the toilet is one of the most common sites of a dangerous bathroom fall? Whether or not your elderly loved one relies on a wheelchair, sitting down on the toilet requires a great deal of extra strength. Purchase a raised toilet seat to give your senior family member an extra boost.
Add Extra Grab Bars
Grab bars are a must for optimal bathroom safety. To keep your elderly loved ones safe, be sure to purchase sturdy, well-made bars that are between 12 and 32 inches long. Temporary suction cup bars are simply too flimsy to withstand a person's weight, while permanent grab bars next to the toilet and on each shower or tub wall can permit easier access and provide assistance in case of a slip. For extra protection, consider installing a durable plastic bathtub safety rail.
Consider a Shower Chair
For elderly men and women who rely on wheelchairs, the simple act of bathing can seem overwhelming. You can eliminate your senior loved one's anxiety by investing in a shower chair. Shower chairs hold up to 250 pounds and come equipped with non-skid rubber tips and adjustable legs for extra stability and security. To ensure easy access, most shower chairs have removable arms and backs.
For the latest bathroom aids, wheelchair lifts, stairway lifts, and ramps on the market, look no further than New Jersey's Williams Lift Company. We have been providing New Jersey with affordable healthcare products since 1947, and our customers can find everything they need for their in-home safety and convenience in our Morris County warehouse. Check out our online offers or call us at (908) 322-7070 today!